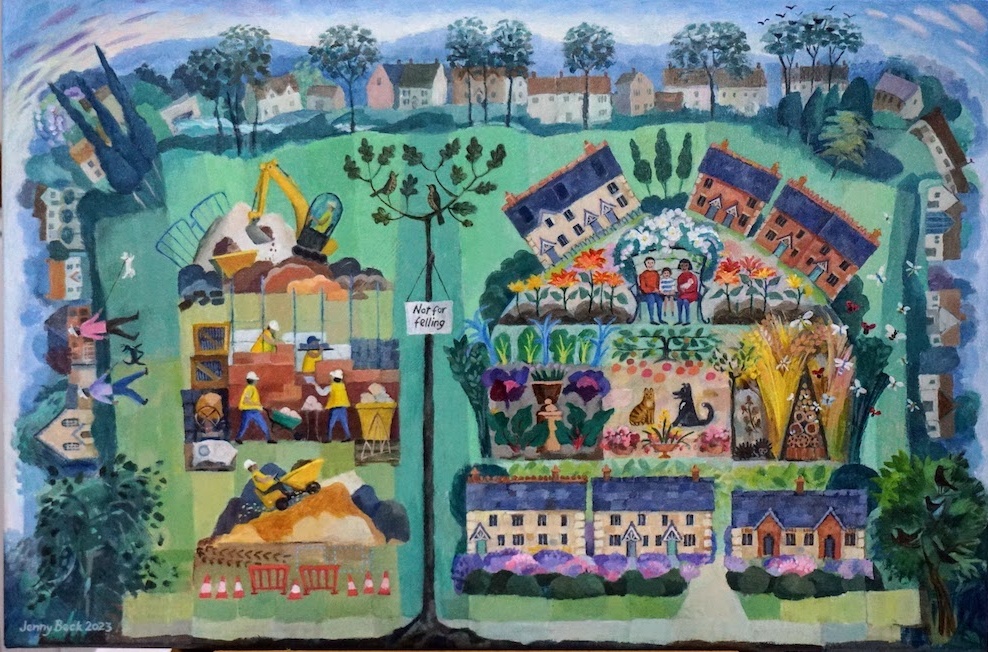 Broadwindsor Group Parish CLT and its partner – Abri – completed their 15 affordable homes in Drimpton in July 2023. The CLT commissioned this beautiful painting of the development by local artist Jenny Beck.
We provide technical support to Community Led Housing Organisations and other services to the Community Led Housing Sector. We have supported the construction of 200 community-owned homes with a further 500 in the pipeline, most of which have been through CLT/RP partnerships. In Dorset and Somerset we provide 'hub' services to a wider range of community housing models.
Middlemarch Associates LLP ("Middlemarch") was incorporated on the 28th March 2013.
Middlemarch Community Led Housing CIC was incorporated on 1st May 2020.
Our track record in delivering the community led housing support services.
CLTs incorporated: 50+
Housing schemes completed: 20+
Housing schemes in progress: 60+.
Homes completed and in progress: c.700.
Income to communities from projects completed or in progress (index linked): c. £18m over 125 years.
Asset value of homes completed or in progress (at cost): c. £100m.
7 consecutive years of Devon Rural Housing Partnership awards plus, in 2018, 2 inaugural National CLT Network awards.
Regular coverage on the BBC, in the regional press, and in community housing sector publications.
The engagement of 19 local authorities and 10 housing associations in supporting CLTs.
Our mission
To help establish a thriving community-led housing group in every community that would like one.
Our values
We believe that no-one cares more about a community than its people. The desire of local people to protect and improve their places represents a huge force for change; a change that can foster self-esteem, mobilise local talents, build community resilience and promote inclusiveness. We believe that the medium of such change is local people leading the development of community-owned assets.
Our purpose
To facilitate asset ownership for community benefit; primarily involving the ownership by communities of affordable housing. We do this by providing end-to-end technical support to community projects or by providing services to the wider community housing sector.